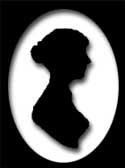 Home
JASNA
Jane Austen
Newsletter
Events
The Ball
What to Wear?
Announcements
Membership
Links
Contact Us!



Site created by
Laura Sauer of
Sauer Expressions
October 11-13, 2002, in Toronto, Canada- JASNA 2002 AGM


Sept 22, 2002 at the West Hartford Library- Misreading and Right Reading in Jane Austen's Novels, By Dr. Barbara Benedict.


June 30, 2002 at the Westbrook Library- Jane Austen's Mothers: A Round Table Discussion, led by CT chapter founder, Anne Morrissey.


Early in May, many members were given the opportunity to attend Pride and Prejudice, the Musical.

Pride and Prejudice the Musical was written by Joyce Back, a JASNA-CT member, with original music composed by Back and Marilyn Lowney. Both artists are residents of CT. The Norwich Arts Council's production was directed by Mary Norris, with musical direction by Micheal McCarthy and choreography by Kirstyn Lazur.


At our last meeting (April 2002), guest speaker and fellow JASNA-CT member Susan Reed spoke about creative ways to teach Jane Austen's work in the high school system. A lively question and answer time, writing assignment and viewing of select scenes from P&P0 followed.


On December 2, 2001, our 3rd annual Jane Austen Birthday Tea, was celebrated with a card party at the Old Lyme Inn. Attendees were introduced to Loo, played at Netherfield during Elizabeth Bennet's stay, Commerce, enjoyed by the mercenary Isabella Thorpe, in Northanger Abbey, and Speculation which was played at Mansfield Park and revealed Mary Crawford's daring.

Many thanks to all the JASNA-CT members who made it such a beautiful and successful afternoon.


September 16th at the Westbrook Library. The speaker was Caroline Cooney, a local writer and author of "The Face on the Milk Carton." She spoke on writing historical novels, as well as her visit to Chawton and her view of Jane Austen as a writer.

A Business meeting followed and details for both the birthday tea, to be held in December and the Ball to be held in March were discussed.


At the June 24 meeting, Ann Morrissey reprised a session she had given at the JASNA 2000 AGM, "What to read after you've read all of Jane Austen". A copy of this list is available upon request from the editor of the newsletter, Jean Brassil.